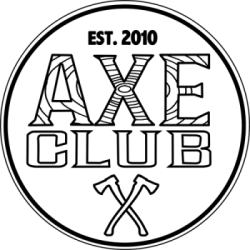 Wicklow Axe Throwing and Woodland Events
Located in a Secret Woodland near Troopers Town Car Park, Laragh, Wicklow.. Just 1 hour south of Dublin.. SEE MAP HERE
We throw a range or different axes that are not possible to throw in our Dublin location, and in a beautiful woodland next to the Avonmore river. Chats happen around the fire and where we can really connect with each other as you slow down and enjoy being out in nature.
Throw different axes and be in nature
Discover your inner viking
Learn how to light a fire with flint and steel.
Eat around the campfire
Extend your event to an all day event or even overnight (cheaper than a Dublin hotel and you get to throw axes)
Woodland Axe Throwing
Axe Throwing in the woods? Hang out by the fire? Hear the river flowing past?
We will give you an Introduction to axe throwing and basic training with our different axes. We will get a few practice throws in so everyone gets the hang of it and then we will run a scored competition. After this we will swap to different type of axes (bigger) and run another competition… The winner of the combined scores is the Axe Champion…
Minimum 4 people, €32 per person (inc VAT).
Contact us to confirm a suitable date and time if you want a private event OR click on the button below to book your space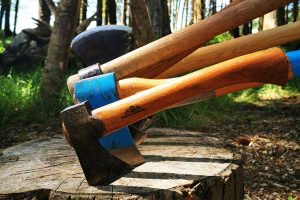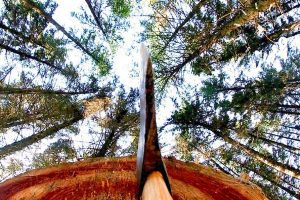 Family Nature Adventure
Join us for a guided family day out in the woods with a private wilderness guide in a private woodland. Bring your pack lunch and choose 3 of the following activities to do during your day:
Fire lighting / Axe Throwing (12+) / Woodland Archery / Hammock Hang out / Basic campfire bread making / Wildlife tracking / Gold panning / Nature walk
Bite sized family adventure
Professional wilderness guide
Private woodland to roam in
Raft and small lake to play on
Family Ticket is only 160e (inc VAT)
Family ticket is for 2 adults and 3 children-(extra children 20e each)
The day starts at 10am and runs for 4 hours… All participants to wear normal outdoor clothing/sensible clothing.. it Might rain so dress sensibly. We are based in a private location near Troopers Town Carpark, Laragh, Wicklow.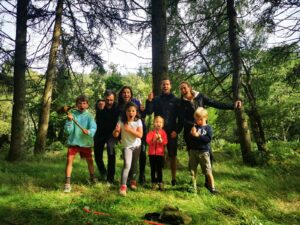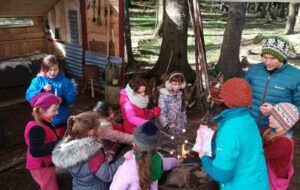 Viking Blade and Fire Event
Beside the Avonmore river we will head into the wood to learn the art of firelighting, axe throwing and archery. Here is what we will be doing:
Introduction to archery and axe throwing and safety briefing
Axe throwing training using Tomahawk and double bit axes.
Scored axe throwing competition
Archery training and practice
Scored archery competition
Fire lighting with a firesteel
Minimum 4 people, €55 per person (inc VAT)
Contact us to confirm a suitable date and time if you want a private event OR click on the button below to book your space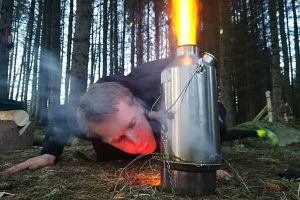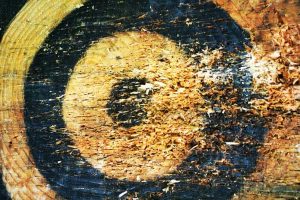 Overnight Camp Out With Fire and Axes PRIVATE EVENT
A 24 hours event for between 6 and 30 people
You would arrive at Midday at our woodland by the river at about midday on day 1, then we would park the cars/minibus and we would go straight into some lumberjack log rolling to get you warmed up and awake after the drive. During the afternoon we would do the following activities (which may change a bit depending on people and weather).
90 mins axe throwing inc a competition and prize giving, Throw some different axes and have a go on the double bit competition axe and Tomahawks.
Cook your own lunch on the campfire (bring your own)
Fire lighting with fire steels and Kelly kettles
Tea/coffee race (first to boil water and make tea) in groups
Viking fire (flint and steel)
edible/deadable – plant identification game
Archery
Tea / Coffee break
setting up camp for the night
Pack down camp (in the morning)
The activities would mainly be on day 1 from midday to the evening when it gets dark. As the light draws in we would be stoking up the campfire for you to cook your dinner (bring your own dinner to cook on the fire and any drinks you want). Hang out by the fire all night/ as long as you want.
The overnight accommodation would be a mixture of Hammocks/tarps and large group Tipis. You would need to each bring a blanket and a sleeping bag for the overnight but if you don't want to bring sleeping bags/blankets then you can hire them from us at 15euros per person for the night. Obviously sensible warm outdoor clothes etc. In the morning we would get the fire going and you can cook your own breakfast (bring what you what to eat) and cook on the campfire, then pack down and get ready to leave about midday with some more Axe Throwing or bushcraft activities mid morning. Your time in the woods will be active but relaxing. There will be time to chat and hang out as well as complete the activities.
Overnight Axes, Fire and Campfire in Wicklow – €95 (plus 9% VAT, so €103.55) per person (cheaper than an overnight hotel in Dublin!!)
Contact us to confirm a suitable date and time – this event is by appointment only.