Teams That Throw Together Stay Together!
Learn a new skill and throw axes with your team mates/colleagues – Join us for some friendly competition at our indoor throwing range. We can run corporate events for groups from 6-50 people at our central Dublin venue. Its hungry work throwing axes, we got you covered with wood fired pizza, craft non-alcoholic beer and speciality coffee..
Not sure of your final numbers? –  just book for the minimum no of people and then add more later…
Christmas (Axe-mas) Axe Throwing Party
 – €35 0r
€
55 inc VAT (€32.11 or
€
50.45 exc VAT)
Only available from Mid Nov- Xmas… We will have the Axe Club looking all festive and cosy – you will have the venue all to yourself. A 2 hour private event for just you and your crew, min 8 people, max 30 people (if you have more than 30 just send us an email as we can accommodate up to 50 people by arrangement).
When you arrive we will complete the basic safety introduction and axe throwing instruction. If you choose the pizza option then the pizza will arrive mid-way through your session.
Mulled wine (non-alcoholic of course) and mince pies included for FREE at all Christmas events
Christmas jumpers are encouraged, the cooler the better. Prize for the sessions Axe Champ!
Hungry? – Choose to add yummy

wood fired pizza

to your event (delivered halfway through the session)
Need a boost? – Axe Club speciality

coffee

and lovely herbal tea available – just 2.50 per person.
Thirsty? – Axe Club can supply the drinks –

Non Alcoholic beer

and

soft drinks

are available – just 5.50 per person
Cost – 35e per person, or 55e with the optional wood fired pizza…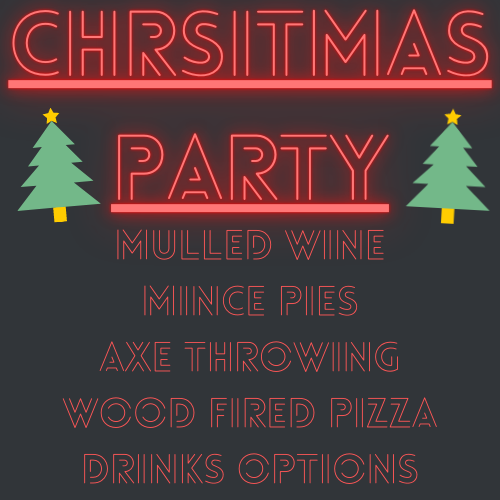 Private Axe Throwing Session – €32 inc VAT (€29.35 exc VAT)
A 90 min private event for just you and your crew, min 6 people, max 50 people. Available weekdays only between 11am and 8.30pm
When you arrive we will complete the basic safety introduction and axe throwing instruction. Once you are all trained then we will start a small friendly competition to find the Axe Champ!
Need a boost? – Axe Club speciality coffee and lovely herbal tea available – just 2.50 per person.
Thirsty? – Axe Club can supply the drinks – Non Alcoholic beer and soft drinks are available – just 5.50 per person
Add an extra hour if you want to have a team meeting around the fire? Just send a email to check first.
For events larger than 25 people the event time is extended by 30 mins
Only available in the mornings from after Christmas-  check out our Christmas party option for afternoon/evening bookings…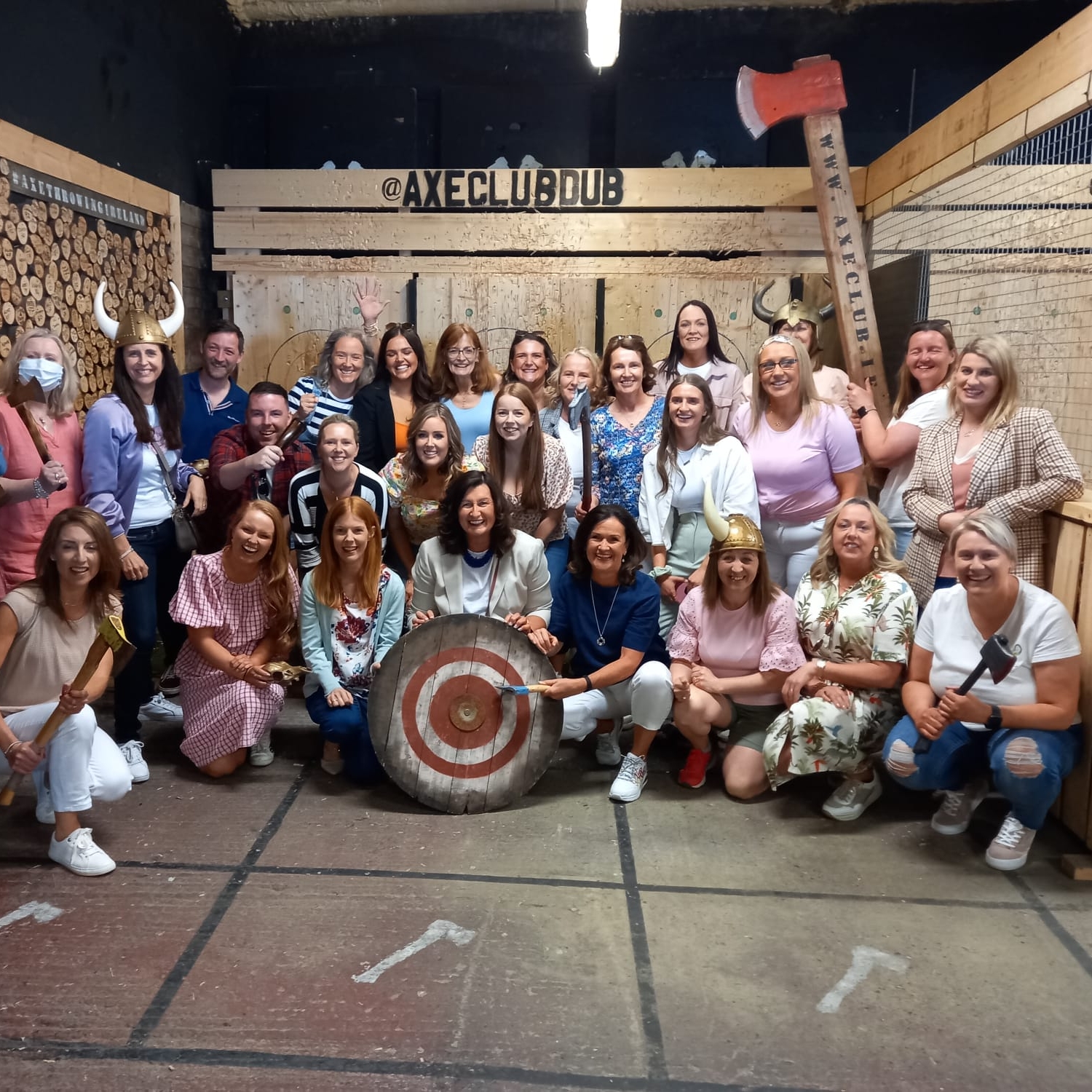 Private Axe Throwing and Pizza Session – €55 inc VAT (€50.45 exc VAT)
A 2 hour private event for just you and your crew, min 6 people, max 50 people. Available weekdays only between 11am and 8.30pm
When you arrive we will complete the basic safety introduction and axe throwing instruction. Once you are all trained then we will start a small friendly competition to find the Axe Champ! Once the axe throwing is over the pizza arrives and you can hang out by the fire, eat and drink. We serve yummy w

ood fired pizza

(approx. half a pizza per person).
Need a boost? – Axe Club speciality

coffee

and lovely herbal tea available – just 2.50 per person.
Thirsty? – Axe Club can supply the drinks –

Non Alcoholic beer

and

soft drinks

are available – just 5.50 per person
Add an extra hour if you want to have a team meeting around the fire? Just send a email to check first
For events larger than 25 people the event time is extended by 30 mins
Only available in the mornings from after Christmas-  check out our Christmas party option for afternoon/evening bookings…