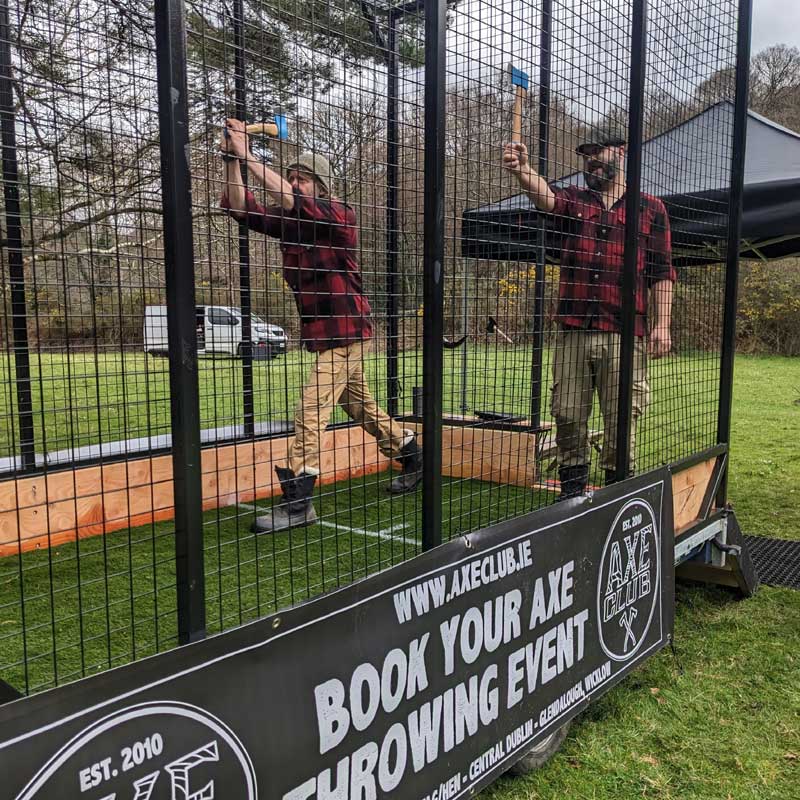 Now available for you to hire to spice up your festival, party, corporate event or wedding. The mobile range can be parked anywhere where the ground is flat and we can drive into. The range has 2 lanes, so 2 people can throw at once, and we always have experienced instructor coaching and supervising all the axe throwing.
I've been wanted to try axe throwing for a while now so finally convinced some friends to come along. It was so much fun, Devon and Adam were fantastic hosts who really made throwing bladed weapons around feel safe! I'll definitely be back.
FANTASTIC!!! They made it so much fun whilst being super supportive, keeping everyone safe and offering expert tuition throughout the session. Don't hesitate to book and give axe throwing a go – you won't regret it! Can't recommend it highly enough.
Our social team in work organised axe throwing for staff. It was fantastic and fun. Its a unique experience and everyone had a ball at it. Would highly recommend it for a group activity, or for a date night. Devin was our instructor/host and he was fantastic.
Our group had a fantastic time in the Axe Club. Our instructor Sinead was excellent. Very professional, gave great instructions we could understand and made the session really enjoyable. A big thanks to Sinead, highly recommend the Axe Club!
Want to become an axe throwing instructor?
Axe Club are looking for a new full time axe throwing instructor to work at our central Dublin venue -get it touch if you are interested. Any axe puns are encouraged in your application…(groan)… We are looking for a suitable person to join the Axe Club family and instruct people how to throw an axe safely with maximum fun for our clients. The right attitude, a can-do mentality and experience of running events are all basic requirements